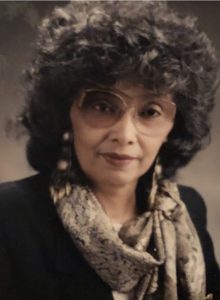 State Representative Alyce G. Clarke embodies all the endless possibilities Mississippi is, and can become, because of her high ideals and standards as a public servant. Born in the small community of Deovelente in Belzoni, Mississippi, her life's work has always been about service to others. A home economist and nutritionist by education, Clarke is a proud alumna of Alcorn State University and Tuskegee University. It is in the field of Home Economics and Nutrition that she became a visionary. Clarke is responsible for implementing the first WIC program in the State as director of Jackson Hinds Comprehensive Healthcare Center (JHCHC). 
In 1985, Clarke garnered an even larger platform for her service when she was elected the first African American woman to serve in the Mississippi Legislature, representing House District 69 in Hinds County. Clarke is credited with promoting the creation of the first drug courts in Mississippi, Senate Bill 2001 from the 2003 (1st Ex. Session).  For her tireless devotion to this truly worthwhile cause, fellow representatives honored Clarke's long push to pass the bill by naming it, the "Alyce Griffin Clarke Drug Court Act."  The Drug Court Act is not the only state law named in Clarke's honor. 
In 2018, her longtime support of the Mississippi Lottery led to that law being named The "Alyce G. Clarke Mississippi Lottery Law" as well. For almost two decades, she had persistently introduced legislation to bring the lottery to Mississippi only to see the bill killed in the committee system. She had the vision, determination, and most of all, patience to file her lottery bill again, and again until it finally was signed into law. The bill will put new General Fund dollars to work from non-traditional taxation. The Mississippi Lottery is set up to benefit both the infrastructure and education systems of Mississippi. Net proceeds up to $80 million generated by the Alyce G. Clarke Mississippi Lottery Law will be paid into the State Highway Fund until June 30, 2028. The State Highway Fund will repair, renovate and maintain highways and bridges of the state. All monies deposited into the Lottery Proceeds Fund over $80 million dollars in a fiscal year will be transferred into the Education Enhancement Fund. From and after July 1, 2028, the net proceeds will continue to be deposited into the Lottery Proceeds Fund and shall be transferred to the State General Fund, except for the amounts over $80 million dollars, which will continue to be deposited in the Education Enhancement Fund. 
In addition, Clarke has been a champion for children. House Bill 1160 was signed in 2019 and designates the facility being constructed in the City of Jackson​​​ as a center for medically fragile children as the Alyce G. ​​​​Clarke Center for Medically Fragile Children.
Clarke's service as a distinguished public official is only part of the story. In both her public and private life, she demonstrates a deep and abiding feeling for those whose opportunities have been limited by circumstances or by cruel conditions imposed on them by events beyond their control.