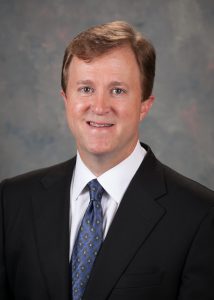 As President and CEO of Entergy Mississippi, Haley Fisackerly keeps the lights on for over 400,000 Mississippians in 45 counties.  He is highly influential in terms of public policy regarding energy production as well as state economic development and infrastructure issues.  His tenure at Entergy has been marked with a substantial increase in customer satisfaction and being named in the top 10 for Site Selection magazine's Top Utilities in Economic Development.
A native of Columbus, Fisackerly came to Entergy by way of Senator Thad Cochran's office where he served as a staffer there in the early 1990s.  Working his way up through the ranks, he eventually did a stint in Little Rock, before coming back to Jackson as VP of Customer Operations.  Notably, he ran point to turn the power back on to hundreds of thousands of customers after Hurricane Katrina.
He currently serves as the chair of the Mississippi Partnership for Economic Development and is a past chairman of the Mississippi Economic Council.  He also serves on the boards of the Mississippi Economic Council, Mississippi Energy Institute, Mississippi Museum of Art and the MSU Foundation.  He is also one of the fundraising committee leaders which has raised millions for the MS Civil Rights Museum and the Museum of Mississippi History both opening in 2017.